So, it looks like someone has assigned a Pretty Cure team for me. It seems like they want me to help contribute to it. That doesn't seem like a bad idea, if you ask me.
The name for the team is Checkmate Charge PreCure, and the members are Cure Valentine, Cure Clover, and Cure Spade.
Here's what they look like: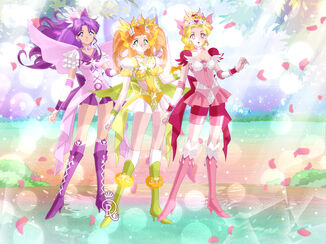 I'm guessing that the girl in pink is Cure Valentine, the girl in green is Cure Clover, and the girl in purple is Cure Spade.

I might be happy to help, but I'll have to think about it. What will their civilian names be, and what powers will they have?
I'll have to think about that for a little bit.
Community content is available under
CC-BY-SA
unless otherwise noted.