Nakahara Tei
中原低 Nakahara Tei
Description
Season
Suite Pretty Cure♪
Age
13
Gender
Female
Eye Color
Purple
Hair Color
Black (Tei)

Silver (Cure Rhapsody)

Home Place
Kanon Town
Relatives
Nakahara Kazune (mother)

Nakahara Youhei (grandfather) Nakahara Otohime (grandmother) Nakahara Hiki (older sister; deceased)

Alter Ego
Cure Rhapsody
Theme Color
Black (main)

Pink (sub)

Japanese Voice Actor
Saeko Chiba
Tei Nakahara is a fancharacter created by Cure Shabon for the canon season Suite Pretty Cure♪. Like how Hibiki excels at sports and Kanade excels at studies, Tei excels at street dancing, but does so in secret because of her traditionally Japanese family and their hatred for the Western culture. Her alter ego is Cure Rhapsody (キュアラプソディー Kyua Rapusodii), who uses the black Fairy Tone Rerery to transform.
Early Life
Edit
Becoming a Cure
Edit
Appearance
Edit
Normally, Tei has chin-length black hair and dark purple eyes. Her civillian outfit consists of a dark gray sweater with rounded jagged edges over a white top with a pink trim at the top, an orange skirt with white trimming over brown pants, and pink slip-ons.
As Cure Rhapsody, her hair becomes shoulder-length and tints gray, with several locks braiding on top of her head. Her eyes become a lighter and brighter shade of purple. She wears a black Trilby with a dark pink ribbon on the left side. Her costume is a mix of black, pink and white, featuring lots of ribbons and frills. Her dress shares many similarities with Cure Melody's and Cure Rhythm's, the only differences being that her sleeves are long, and the ribbon on her skirt is on the center. She also wears black high heels with dark pink ribbons.
Relationships
Edit
Personality
Edit
Cure Rhapsody
Edit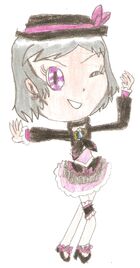 Strumming the Tempered Tune, Cure Rhapsody!
爪弾くは鍛えな調べ キュアラプソディー!
Tsumabiku wa kitae na shirabe, Kyua Rapusodii!
Cure Rhapsody (キュアラプソディー Kyua Rapusodii) is Tei's Pretty Cure alter ego. She transforms using her Cure Module, along with Fairy Tone Rerery.
With the Mystic Belltier and the light pink Fairy Tone Mimiry, she can perform Music Rondo, an individual purification attack. With Cure Muse's help, Cure Rhapsody becomes able to use a powered up version known as Mystic Estinto.
Etymology
Edit
Nakahara (中原) - Naka (中) means center, which would fit with the Cures having a cardinal direction in their names, and Hara (原) means field.
Tei (低) - Means low or to lower. Given the season's musical motif, it could be derived from teion-bu kigō (低音部記号), meaning "bass clef".
She is the first of Cure Shabon's OC Cures to wear a Cure outfit with long sleeves (keeping in mind that she was created before the reveal of the true Cure Muse, whose outfit sports long sleeves as well) and a hat.
Mimiry, the Fairy Tone used with the Mystic Belltier, is meant to be identical to the lighter pink Dory that was sold for a while by Bandai.